NEWS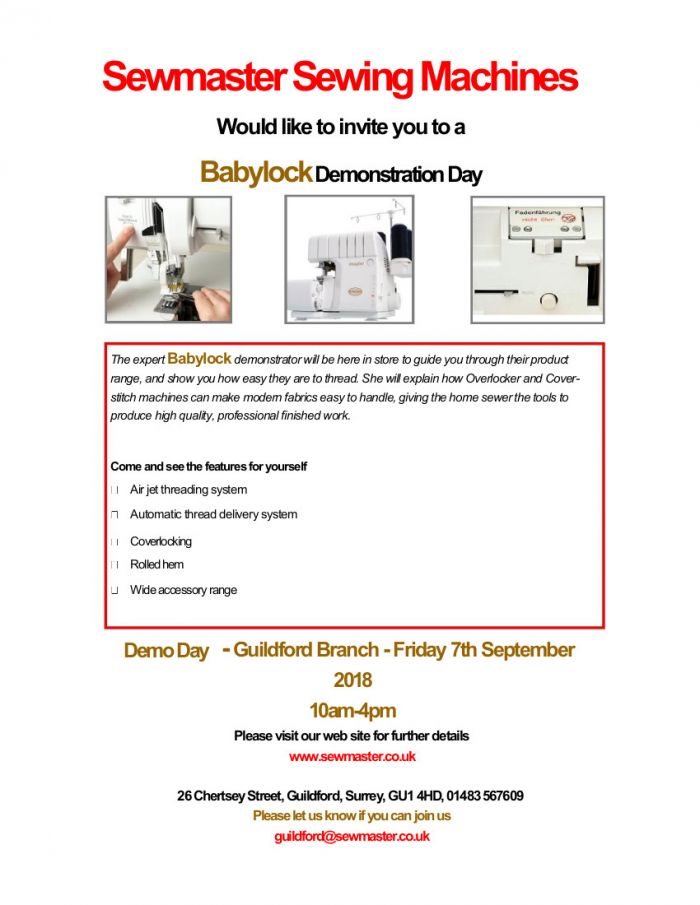 Babylock Demonstration Day
Guildford Branch - Friday 7th September 2018 10am-4pm
The expert Babylock demonstrator will be here in store to guide you through their product range, and show you how easy they are to thread. She will explain how Overlocker and Cover-stitch machines can make modern fabrics easy to handle, giving the home sewer the tools to produce high quality, professional finished work.
Come and see the features for yourself
Air jet threading system
Automatic thread delivery system
Coverlocking
Rolled hem
Wide accessory range
---
BERNINA Series 7 Models 710 and 750QE are now available for demonstration in our shops
The 25th annual PFAFF dealer convention in San Antonio kicked off with a fashion show to launch the new PFAFF Creative Sensation sewing and embroidery machine. Here's a video for those of us who weren't there
BERNINA 550 5 Series is now in the shop to see!

Sewmaster has lent four B350 Patchwork Edition machines to The Quilt Room in Guildford for their Autumn 2010 programme. For more information on this and other courses run by them visit: www.quiltroom.co.uk
Here are some events you might find interesting:
June

2018

Venue

Time/Details

Sun 17th

Father's Day

August

2018

Venue

Time/Details

Mon 27th

Summer Holiday

October

2018

Venue

Time/Details

Wed 31st

Halloween

November

2018

Venue

Time/Details

Sun 11th

Remembrance Sunday

Fri 30th

St Andrew's Day

December

2018

Venue

Time/Details

Tue 25th

Christmas Day

Wed 26th

Boxing Day

January

2019

Venue

Time/Details

Tue 1st

New Year's Day

February

2019

Venue

Time/Details

Thu 14th

Valentine's Day

March

2019

Venue

Time/Details

Fri 1st

St David's Day

Sun 17th

St Patrick's Day

Sun 31st

Mothering Sunday

April

2019

Venue

Time/Details

Fri 19th

Good Friday

Mon 22nd

Easter Monday

Tue 23rd

St George's Day

May

2019

Venue

Time/Details

Mon 6th

May Day

Mon 27th

Spring Holiday

The above dates may change without warning